Document Archiving
Do you need a safe space to hold all your documents?
Here at Secure Storage Services Ltd, we're glad to offer the North West of England and North Wales businesses a secure and inexpensive document archiving service, giving you peace of mind that your documents are stored securely. If your industry's regulator insists on a prolonged archiving period of client documentation, then you'll likely soon conclude that storing all your archived documents on-site is not viable.
Address:
Secure Storage Services Ltd
133-135 Richmond Row
Liverpool
Merseyside
L3 3BU
Tel:0151 293 4000
What is the purpose of Archiving Documents?
Archiving documents is when old data that may still be important to a business but isn't active is securely stored away for future reference to the company. Archived documentation takes up valuable office space. On a cost 'per-square-foot' basis, it simply does not make economic sense to archive past clients' documents on-site when far cheaper storage space can be found offsite.
Document archiving is essential for many reasons, mainly because of security. We now live in a world where data breaches are becoming more accessible and frequent. Ensuring your professional and personal documents are safe should be your number one priority. You can learn more about why offsite archiving can be helpful for your business throughout the website and the reasons behind its recommendation.
According to Geoffrey Moore, "Without big data, you are blind and deaf and in the middle of a freeway." Data is incredibly important in the modern world, and you must take care of every bit of it that you have. Not least if you are in a profession with sensitive and confidential information. Some of the key reasoning behind having your documents archived include:
Improving security – ensuring that only specific personnel can have access to confidential information.
Space-saving – It's much more space-efficient than having heaps of filing cabinets in your office.
Data loss prevention – Data is so important in the modern business world and can be invaluable to your business. Losing it can cost you time and money.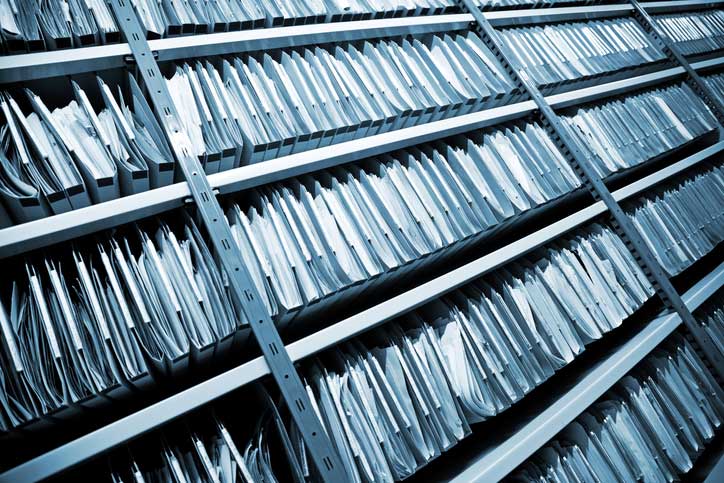 Ideal for short and prolonged storage periods alike
Since solicitors and accountants are required to retain client documents for a period of six years the archived documents will simply gather dust if you decide to retain them on-site. Instead, it makes more sense to ship idle archived documents off to our secure and purpose-built storage facility on the Wirral, Merseyside. Our facility is climate controlled meaning documents will not perish and gather dust.
And since our facility is guarded by CRB checked security guards and a state-of-the-art CCTV system, you can be assured your compliance obligations under the Data Protection Act 1998 and other industry-specific regulations regarding confidentiality are well taken care of. The stored document archiving service we can provide all but eliminates business risk when it comes to guarding client business documentation against the wrong hands.
A True 'Door-to-Door' Service
Once your documents are delivered to our facility they will be organised using our proprietary state-of-the-art indexation system. This will allow for speedy retrieval of important documents as and when the need for them arises. We offer a 24-hour 'next day' express service for specific documents you require to be retrieved from our care. When we archive documents, we use trusted methods and fail safes to ensure your data is secure every step of the way.
We collect your documents from your premises as and when you require us to do so. We offer a complete 'door-to-door' collection and delivery solution backed up with a bar-coded trail so you can see where your archived documents currently are in the logistics process. Upon receipt to our Wirral facility, your archived documents will be secured in purpose-built shelving which is heavily guarded 24 hours a day.
Our facility can take care of your document archiving needs no matter how big or how small. We are able to store anything from 10 up to and surpass 20,000 document boxes. No matter how big or small your business maybe you can be assured our bespoke archive storage solutions will meet your needs.
Digital Document Archiving
Digital document archiving is the process of storing and managing documents in digital format. These digital files can then be accessed as requested over the cloud or held on digital storage devices.
We can scan your records and create digital copies of them to be stored in our servers under safe storage conditions. The paper copies will then be destroyed and the paper recycled.
The digital scanning process preserves the documents while protecting them from environmental damage and reduces the chance of theft or loss.
Storing your records digitally can free up a lot of space and makes the retravel of required documents a simple task as they can be accessed online through an archive or placed on storage devices. By simply entering a few keywords you can find exactly what you need, rather than looking through piles of paperwork.
Some digital documents can be stored online while others are kept in physical storage devices such as computers, hard disk drives or USB flash drives. With digital document archiving, we have real flexibility and can scale up and down our archived records very quickly and inexpensively.
Electronic Storage System
We understand that with the rapid growth in technology, more and more companies are walking away from conventional storage methods. This is why we have created an archiving solution that also covers electronic documents that you need to achieve in a secure place.
With our highly secure document cloud management system, we will be able to offer security for your most important documents without you losing accessibility. Through the secured cloud server you can access your digital documents remotely through a specially designed account that we assign to you.
This service is also available through our document scanning offering as once hard documents are turned into a digital version we will insert them onto the cloud with the files ordered in the way agreed with the client.
Digital archiving is changing the face of traditional document archiving, this is why we are constantly evolving our safe and secure document storage solutions to match what is required in the modern world. If you have important documents and need the safest most secure storage, our systems have you covered.
Effective Document Management Systems
When dealing with document archiving, we have a document management system in place which keeps all your files as secure and organised as possible whether that's by sorting them via invoice number, dates shown on file or client/organisation shown on a document.
Our system comes with specific guidelines that must be followed by all members of our team to ensure that no matter what requirement you have, it will handle in the same professional and effective manner.
Is Document Archiving still Practised by Big Business?
The simple answer to this is yes, not only is it practised by big businesses but a lot of the time it is recommended in some instances. Document archiving still takes place to this day and one of the most famous document archives in the world is The National Archives. With thousands of years' worth of documents and information, the national archives are one of the biggest accumulations of historical records in the world.
Providing Archive Storage For All Document Types
Typical documentation which falls under the remit of our archive storage service includes:
Paper documents
X rays
Large format documents and drawings
Health records
Legal documents
Microfilm
Architectural drawings
Historical documents
Sundries such as chequebooks and ID cards etc.
Call today on 0151 293 4000 for a quote
Secure Storage Services Ltd offers offsite archiving for businesses across the North West of England including Liverpool, Wirral, Manchester, Greater Manchester, Chester, Cheshire and Ellesmere Port. Call us on 0151 293 4000 for more information.
Further resources