Secure Document Shredding
Secure Storage Services provides secure document shredding services to SMEs.
A breach in sensitive documentation can be a disaster for both the owner of the documents and the subject of the sensitive document. For the owner and guardian of the document, severe penalties can be handed out due to the fact that a lost or breached document is considered failure to comply with governmental guidelines on data storage. There is a chance you might face a penalty up to half a million pounds. Many companies have suffered from a loss of reputation and therefore a loss of clientele due to a simple data breach – both large scale online data breaches or simply just leaving an important document unguarded have had severe repercussions.
Call Us Now for Secure Document Shredding Services on 0151 293 4000
One easy way to breach client confidentiality is through the poor management of paperwork and other client documentation. If documents are not correctly stored and then shredded, you run the risk of documents falling into criminal hands. By investing in secure offsite storage and shredding, you may entirely guarantee you are meeting your obligations regarding client confidentiality.
This is why we at Secure Storage can guarantee you top class Secure Document Shredding Services. We can give you full assurance that your documents will be stored in full confidentiality for the time it is legally needed to store your documents, and then shred your documents to your requirements.
Secure Document Shredding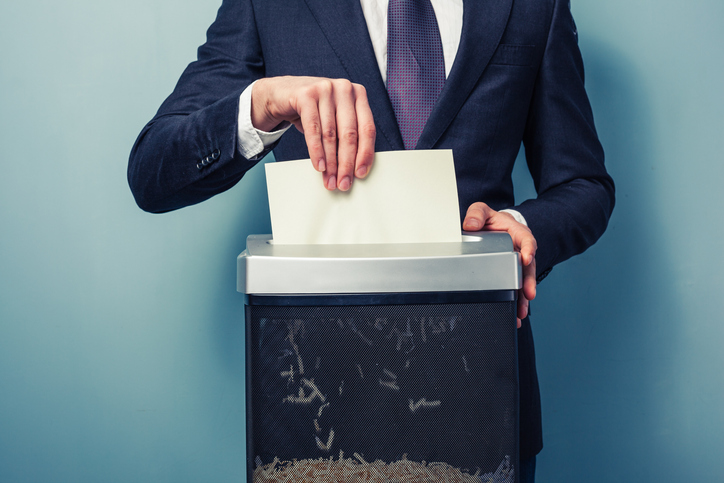 At Secure Storage Service, we store and destroy all manner of legal documents and deeds. This includes paper documents, hard drives, discs and microfilm. All document destruction is completed according to a strict retention policy as per our document storage services.
How Secure Document Shredding Works
One we agree upon a fixed price for your storage and eventual shredding needs, we are able to pick your document up with our secure vehicle and pick your documents of choice up and transport this to our facility. If you decide to scan your documents, we will sort your paperwork and prepare your documents for scanning. We will remove all of the items that could get in the way of the scanning process, such as paperclips, post-it notes and anything else.
Once we get to the stage where you are not legally obliged to keep those documents stored, we move on to the next phase – the shredding process. Once your paper arrives at our Wirral depot, it will be shredded in comp
liance with British Standard BS 160. Our shredding operations comply with Environmental Agency requirements and also with local and national laws. Likewise, our service will comply with the Data Protection Act 1998 particularly in relation to confidentiality.
Maintaining privacy and security can be tough in-house
When shredding documents for ultimate privacy and security you want the process to be quick and efficient without leaving anything behind. The disadvantages that come with in-house document shredding mostly comes from the poor performance of an office paper shredder which can slow down the process by causing paper jams and other issues that require maintenance, the lifespan o
f shredding blades in a typical office shredder is also not very long meaning that if you have large quantities of important documents that need shredding you will most likely run into a number of issues.
We find that the reasons listed above are the most common explanations for most employees just throwing paper in a bin without shredding and disposing properly, this could include some really sensitive data that could get into wrong hands. The same also applies for paper that has been shredded which also tends to end up in the communal trash or recycling bin meaning that the confidentiality of the documents is still compromised.
By using an offsite document shredding company with increased levels of security, you can be safe in the knowledge that even your most private information will be in safe hands.
Secure Document Storage
In a variety of businesses, it is legally required to keep certain document stored for a specific period of time due to inspection. For example, VAT papers need to be kept and stored for more than 6 years before you have the right to destroy these documents. Another example is the register of Directors and Secretary, which must record details of past directorships for the past 5 years.
The amount of documents that you will need to store and keep handy at all times can become a bit much, and that is why you should outsource your document storage needs. At Secure Storage, we offer offsite document storage at a location near you, where you will be able to retrieve your documents at any given time. Imagine the amount of space that could go to waste due to a pile of documents you might never need again, but you must keep them due to legislation.
To add to that, our offsite document storage location is very secure. Client confidentially is guaranteed, and all archive materials are stored in secure premises protected against fire, theft and with compliance with government legislation.
Document boxes will be shelved according to a strict document filing system that allows for speedy document retrieval. This strict filing system allows you to retrieve documents within half a day upon request of the document- in the case of checking . When you request retrieval, we scan your documents and send them to you electronically.
Secure Document Shredding FAQ
Is one-off Secure Document Shredding an option?
Yes. We offer a simple one-off shredding service aswell. Speak to one of our specialists about what we can offer in that regard.
Is using your own shredders an alternative?
We would not recommend to use your own shredders. This is not secure in comparison to the specific shredders we use, which are optimised to a full extent and meet all standards and regulations. To add to that, imagine the time you would lose to prepare for the shredding! It would be cheaper and more efficient to outsource your Secure Document Shredding needs.
Where can I securely shred documents?
You can shred documents from anywhere but it isn't necessarily secure. Shredding documents of a highly confidential nature should be done off site in a secure document shredding unit. With our service, we will arrange to pick up your documents to be taken to our secure unit and destroyed. An offsite unit will not only save you time but also potentially money. Often leaks of personal details can be extremely costly to the business who has lost them, however with a secure offsite unit to shred your documents you can rest assured that they are destroyed and there is no potential for any legal reprocussions.
How much does document shredding cost?
The cost of document shredding varies from company to company and can also depend on the level of security you wish. Some companies may offer a cheap alternative but that will come at the detriment of the level of security you will recieve. The price you recieve will often be based on the amount that you require to be shredded and the regularity of the collections too. To get an accurate quote on this, visit our contact us page, and an associate will be in touch.
Is secure document shredding viable for my business?
A question that is commonly asked, and often met with another question. How comfortable would you feel if someone external to your company got hold of confidential documentation? Most businesses would not feel comfortable with this and it is why they reach out for secure document shredding from ourselves. Budgeting concerns are normally what scare organisations away from outsourcing such a mundane process, however it's important to consider two factors; staff cost and time. The staff cost element, is how much do you pay your staff? Often organisations with highly confidential paperwork will leave it in the hands of staff who are considerably well paid for the processing of such paperwork, in any case, would the salary you provide you staff with be best spent with a proportion of it shredding? or would it be better to outsource this. Another key factor is the time element. Whilst it may only seem like 15 minutes a day, but 15 minutes a day adds up to over 465 hours over the course of the year, which is a lot of time shredding.