Document Scanning in Liverpool and Wirral
Document Scanning Services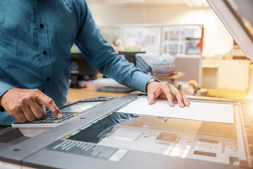 Most modern companies have moved on from the days of filing cabinets stacked full of paper records. Not only does it cost money to store all this information, but it is also unsafe, hard to organise and takes up valuable space.
Trust Secure Storage Services to guide you into the world of digital archiving. Are you looking to outsource all your scanning and retrieval requirements in Liverpool or the Wirral? Or implement hard-copy storage and scan-on-demand service? Secure Storage Services have the expertise to provide a cost-effective solution to your digital archiving needs.
Using the latest Canon scanner technology, coupled with comprehensive quality checks, you can be sure that Secure Storage Services provides a secure and reliable document scanning service for your digital conversion needs.
Benefits of Document Scanning Services
There are many benefits to outsourcing your document scanning. You will save space in your office; all your data will be backed up and protected from fire, water, loss or general deterioration. Although these may seem like extreme circumstances, a recent report indicated that companies that suffered a total loss of their documentation due to fire, etc, went out of business within 12 months. Document scanning and archival enables you to have multiple copies of your documents on and off-site.
Why Invest In Digital Document Storage?
Secure Storage Services offers an affordable document digitalisation service as part of our core document scanning services. We use Optical Character Recognition (OCR) technology.
This allows us to pull data from paper documents without human involvement. Your documents will then be indexed according to pre-agreed rules, allowing for speedy and accurate retrieval of electronic documents.
We can also provide large format scanning for larger documents such as photos or building layouts. Come and see us at our state of the art storage facility to find out why we are the right document scanning company for you.
What Is Scan On Demand?
Scan on demand is a 'pay as you go' service. Initially, we scan all of your paper documents at our custom facility. If you request access to these documents, we will convert the documents you request 'on demand'. The documents you require are typically converted into a digital version.
Scan on demand allows you to access all of the benefits of 'going paperless' without the associated cost. All of your documents are stored off-site, but you can still access documents in a digital format as and when documents must be viewed.
What Is Bulk Scanning?
Another option is to invest in bulk scanning. This is when we scan all of your paper documents at once. This task is costly compared to scan on demand, but it will speed up the retrieval process, particularly when documents must be retrieved in real-time.
One advantage of bulk scanning is that you may destroy paper documents once they are all scanned into the system, eliminating the costs associated with paper document storage.
During bulk scanning, we collect paper documents from your business. Your documents will then be transferred to our document scanning facility. A team of workers will then scan your documents into a digital format.
Whether you are trying to protect scanned images or necessary invoices, our highly secured facility will keep everything as safe and secure as possible until you are ready to collect your documents.
What Is Day Forward Scanning?
Day forward scanning is when you select a 'launch date' for document scanning. Documents created before this date will not be subject to document scanning, whilst documents created after this date will.
This approach will save you money compared to bulk scanning explained above. This also allows you to better keep on top of document management going forward.
Following your launch date, Secure Storage Services will endeavour to collect your paper documents from your business regularly.
Scanning Medical Records
In a medical setting, retrieval of documents could be the difference between life and death. That's why we offer a specialist document scanning service for our medical clients in the North West. These clients typically include hospitals, GP practices, dentists, and pharmacists.
Many of our medical clients require medical records to be digitalised, allowing for speedy retrieval and increased security. Digitalising medical records enables multiple professionals to access comprehensive records in seconds rather than days.
For many years, Secure Storage Services has become the number one provider for the storage, archiving, indexing and scanning of medical records for hospitals, GP practices, dentists, and pharmacists. The service we offer is affordable, secure and highly dependable.
Scanning Legal Documents
Another important aspect of our work is legal document scanning. Law firms in England and Wales must store documents for many years due to legal requirements in this area. At Secure Storage Services, we assist law firms in this area.
We help law firms in Liverpool and the Wirral to store legal documents according to laws and regulations governing their industry. We also understand that client confidentiality and security are also of paramount importance.
What Is Onsite Scanning?
Onsite document scanning is typically appropriate when you require the digitalisation of highly sensitive information. You may not be willing to allow these documents to be stored off-site for these reasons.
If so, we can accommodate your needs. Before onsite scanning begins, our skilled project managers will work closely with you to ensure documents are scanned quickly, cost-effectively and securely.
Whilst onsite scanning is not as affordable as off-site scanning; you arguably do receive a better level of service. This is mainly because you will be physically present whilst all of your documents are scanned.
When we carry out onsite document scanning, we bring our state-of-the-art scanning equipment. This equipment can scan over 200 pages per minute, and all of our team members are subject to an enhanced DBS check.
Archive Scanning Services
Our specialist team also provides archive scanning services to businesses across the UK. By using this service, you will securely keep your documents off-site and request the information when you require it.
This ties in nicely with our Scan on Demand service – all documents are scanned and returned within just a few hours. This improves data protection, saves you time office space and reduces overall costs for your business.
Post Scan Storage & Destruction
Our comprehensive archive storage and secure destruction services can ensure the correct procedures are in place following the digital conversion of your documents.
Secure Storage Services are a well-established company registered in England. If you're interested in a quotation or further information on document scanning services, please call now 0151 293 4000 or fill in an enquiry form.
Further resources
Is document scanning suited to my business?

  Absolutely, yes! We can provide all the necessary arrangements to work through the backlog of documents you have and need scanning into digital format. On competition of document scanning we can arrange the safe storage of the paper counterparts in one of our storage facilities, alternatively we can arrange the secure and confidential shredding for certified destruction of you documents. If requested the originals can be returned to you.
Do you issue a certificate of destruction?

  We do! Once the documents have been destroyed, we issue a notice of destruction certificate, as mandated by GDPR regulations.
Why choose document scanning?

 
Your business will have its own specific use case for our document scanning service, but here are some benefits to doing so   
- Quick access to digital records
- Streamline business process
- Data backup / recovery plan
- Reduced costs for storage