Medical Document Shredding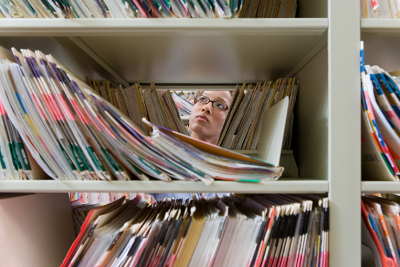 Shredding of medical documents such as patient records is a highly sensitive task which needs to be handled with the utmost care in regards to confidentiality and security. With our offsite secured shredding service, you can be guaranteed that your documents will be handled and shredded with security and confidentiality being our main priority.
This service is ideal for any medical practice whether that be the NHS, Health and Social Care Organisations (Private and Public), General Practices, Health Trusts, Dental Practices etc.
What is Medical Document Shredding?
Medical document shredding is the process of disposing important and confidential documents through the use of the latest shredding technology. This ensures that your important medical documents will be completely destroyed and won't be able to get into the wrong hands.
We are experienced in our field and are able to provide a highly secured shredding service for companies that handle important and confidential documents, our process exceeds the standards set by the UK government, EU regulators and the DIN.
Why is it important to dispose of old and unwanted records?
Medical documents and documents, in general, can take up unnecessary office space which can be better utilised. If you have a vast number of documents and records spread all over your office, you could open yourself up to serious consequences.
One of those consequences is the loss of important records due to the overwhelming amount of paperwork, we tend to find that this happens a lot in cluttered office spaces as it very difficult to keep records organised.
The time saved from trying to find records could be invaluable to you as a medical practice and can help create more time for your medical professionals to focus on more important tasks.
Having a cluttered office is also a health and safety risk with the possibility of records/documents blocking potential escape routes in the event of a fire.
If you wish we can also scan your medical documents and provide you with a digital version, you can then re-print documents as you need them,
Why should medical companies consider using an offsite shredding company?
There are many benefits to using our offsite shredding service with the main benefit being the security of your documents which are collected by a secure vehicle that arrives at your premises.
When the driver arrives they will have a security badge to confirm that they are an employee of secure storage services, all our employees go through rigorous checks (in line with BS7858) before joining which includes a full CRB check.
If you are happy with the service we provide you might also be interested in our scheduled paper shredding service, this gives you the option to arrange unwanted documents/records to be picked up on planned basis each month/week.
All paper that is shredded by Secure Storage Services is done so in line with British Standard BS160.
Will the medical records be secure while at your premises?
The highly secure transfer of your documents to our depot as detailed above should give you a brief idea on how serious we take security at Secure Storage Services.
While your documents are at our premises waiting to be shredded, they will be monitored 24/7 by our state of the art CCTV technology. The building can also only be accessed through the use of our secure entry system which is designed to make the premises inaccessible to non-authorised personnel.
All our staff are well trained and aware of the absolute importance of keeping the depot as secure as possible, every staff member has undergone a full DBS check before joining our team.
Is it environmentally friendly?
Secure Storage Services are committed to our environmental duties, we aim to recycle as much waste as we possibly can.
When using our document shredding service, all paper will be recycled after the shredding process. By recycling your materials through us you will receive many benefits which includes exemption from landfill tax, an increase in your reputation as a green company, better public image by showing care for the environment and the best thing is that you can receive all these benefits with very minimal input.
Contact us today
If you would like further information on our medical document shredding service then please contact us today on 0151 293 4000. All of our documents are stored and shredded according to ISO standards. When your documents are shredded, you will be issued a certificate of destruction upon request. This can be used as evidence that your compliance obligations have been met.