Bulk Scanning Services
Many firms have decided to go paperless in the past few years, and there are many reasons for that. One such reason is a better understanding of the environment and the fact that going fully digital in document storage can reduce your paper consumption by a very large amount.
Companies move to a digital document storage system not only for eco-friendly reasons but also because it is much more convenient to keep documents stored digitally. Many firms know how it feels to have a massive backlog of documents that take up a massive amount of space. To add to that, finding the correct documents can be a complete nightmare due to the fact that it takes time to search through your storage.
Is your business/organisation planning to move to a paperless system; but wonder how you could scan a whole log of documents that you have built up over the past few years? Our Bulk Scanning Services could be perfect for you.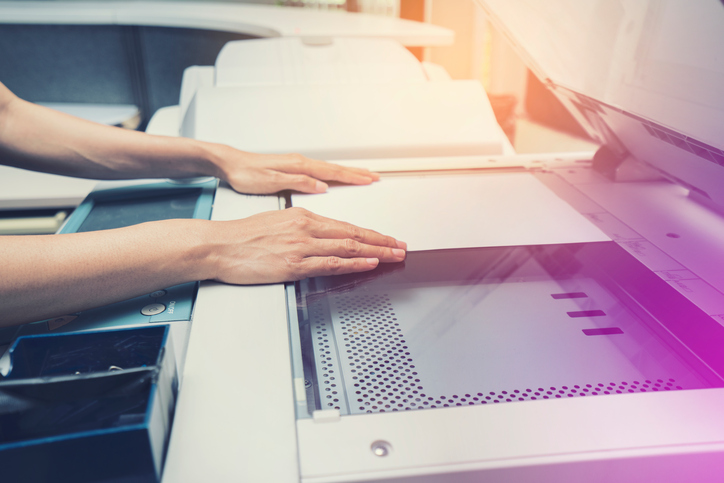 What is Bulk Scanning?
Most companies have filing cabinets overflowing with old paperwork and documents that they don't know what to do with, and many do not have the time or manpower to spend days scanning and digitising the information in a digital format.
A bulk document scanning service will use state-of-the-art equipment and technology to scan and digitise all your paper documents and images.
The initial cost of bulk scanning can be expensive, but at the end of the day, it is worth the cost because you will have all your documents saved as electronic files that are easily accessible from any office or location in real-time. Bulk document scanning makes use of the latest technology to turn your paperwork into electronic files, and documents can be indexed according to pre-agreed criteria, allowing for quick and accurate retrieval of information.
The majority of bulk document scanning services will collect paper documents and files from your business and transport them to their document scanning facility, where they will be scanned and digitised. The documents will then be returned to you as digital files that can be stored in various places, including cloud-based storage, USB sticks and on several hard drives.
If, for legal or security reasons, you cannot allow your documents to leave your premises, bulk document scanning services also provide onsite scanning. This enables them to bring their state-of-the-art scanning equipment to your premises and scan your documents in a safe and secure environment.
Onsite bulk document scanning is not as cost-effective as offsite scanning because of the logistics involved in moving the equipment, but for companies dealing with highly sensitive information, it is the best solution, and they can oversee the entire process.
Bulk Scanning Services: How it Works
You can call one of our specialists in order to gauge the size of the project and see what your options are. We can also do an on-site visit in order to establish the size and scope of the work needed to be carried out. The on-site visit can take up to an hour.
Once you agree to use our bulk scanning services after accepting our offer, we shall then sit down with you in order to complete a plan for your project. Our Bulk Scanning Service is perfectly equipped to collect your documents and transport them securely to our scanning depot. We have state-of-the-art technology available at our scanning depot.
The scanning project starts once your documents arrive. We prepare your files thoroughly before proceeding and remove any material that could stop the scanning process. This includes paperclips or post-it notes. The files will then be scanned and transferred to your chosen method of storage.
For many years now, Secure Storage has offered all document storage and document management services to various sectors. Whether that be document shredding or advanced and developed document scanning solutions, in both Liverpool and the Wirral, we can help you digitalise your files to forms like PDF and JPEG. Call us today on 0151 293 4000 for any questions regarding scanning and document shredding.
With property becoming more expensive to own or rent and many people working from home or a shared office, nobody has space anymore to store thousands of pages of old documents.
Paper takes up a lot of valuable real estate, and even if you can afford the secure storage space, it could be far better utilised and potentially generate an income for your business.
Besides the cost of storage, paper degrades, rots, and can easily be misplaced or damaged, resulting in the loss of vital business records and information. Basically, paper filing is old school, and digital archives are the future, and you need to move with the times.

Bulk Document Scanning Saves Space

By law, old documents and records can't be destroyed for several years and need to be stored somewhere. Many companies are forced to rent extra storage facilities to store their old documents, and searching through archive boxes to access these musty pieces of paper is time-consuming and laborious, but it doesn't have to be that way.
By scanning your invoices, statements, employment records, purchase orders, correspondence, memos and files, you eliminate the need for masses of storage space, and all your documents are easily accessible and available worldwide at the touch of a button.
Digitised documents take up far less space than secure physical document storage, and bulk document scanning can transfer a filing cabinet's worth of paperwork onto a single USB stick, freeing up vital office space that can be used to expand your business. Just imagine how many USB sticks you could store in a drawer or the space taken up by a single filing cabinet.
Once all your documents have been scanned and digitised, most of the paper copies no longer need to be kept on file and can be destroyed. It is important to ensure that all your paper documents are securely shredded and disposed of in an appropriate manner to avoid any information falling into the wrong hands.
Before you destroy all your old paper documents, it is important to check the legal requirements of your industry. Obviously, for legal admissibility, there will still be certain instances where you are required to keep your paper documents in secure storage. However, this would not apply to all your paperwork, and you would still be able to reduce your storage space by scanning most of your documents.

Bulk Document Scanning Protects Your Information
Documents are valuable sources of information, but the paper does not last a lifetime. Paper documents that are constantly handled quickly become brittle and can easily be torn, misfiled or damaged by careless employees, and the ink fades when continuously exposed to the light.
Digital images and documents, however, are far less likely to be lost, misfiled or damaged, and you can make multiple backups that are stored in different locations, ensuring your documents are safe from degradation, misplacement, and damage caused by fire, water, and other hazards.

Scanned Documents are Easily Accessible
With more and more companies having a global presence and offices around the world, there is a growing need for all documents to be accessible at all times in many different locations. An office in London, Birmingham or Manchester can't wait for their New York, Singapore or Hong Kong branch to open so that a secretary can physically search through a storage room to find a dusty old document that then needs to be scanned and emailed.
This is a time-consuming process that will lead to frustration and frayed tempers. It is far better to have all your documents bulk scanned and saved in cloud-based storage so that they are accessible to all employees.

Keeping Your Documents Safe
The increase in the digitalisation of documentation has led to an increase in cybercrime and concerns about digital security. It is crucial for you to protect your information and keep company documents secure and confidential at all times.
Storing information electronically is not without risk, but if you implement the correct cybersecurity measures and keep your security software up to date, you will soon find that the advantages of bulk document scanning and digital storage far outweigh the risks.
Bulk document scanning is the future, and we are here to assist you with all your onsite and offsite bulk document scanning needs in London, Birmingham, and Manchester.
We would be more than happy to discuss and bulk shredding services you need. For a quote or further information on document shredding please call us now 0151 293 4000 or fill in our enquiry form.