Paperwork Storage
Space is a rare and priced commodity for a lot of people. Whether that would be businesses, or just regular consumers – space is a lot more valuable than you would originally anticipate. For many businesses, there is often a gigantic amount of space wasted just for documents. Firms that operate in the law and financial sector build up an extremely large document inhouse storage a lot faster than you would think.
That is why storing your documents at an outside facility can help you gain space for more important purposes. How about some extra space for larger desks, or in some cases, maybe even extra office room instead of a large document storage room! That is where we at Secure Storage come in and offer you our Paperwork Storage service.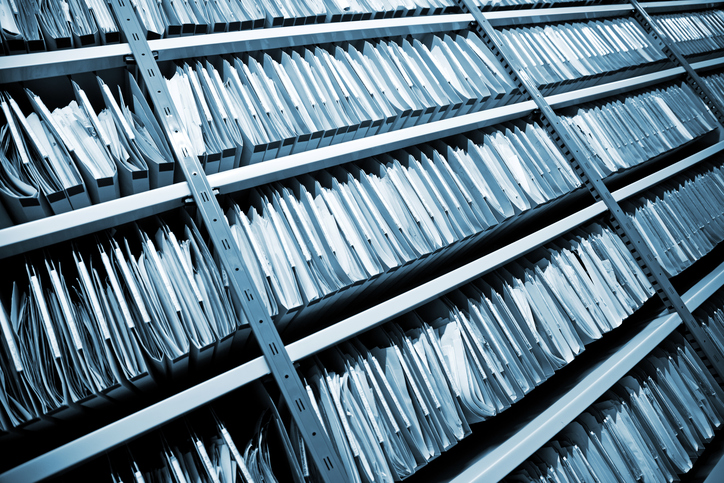 How does Paperwork Storage Work?
Once you have decided that you can maximise the space in your office by outsourcing your documents – give us a call. once you decide to make use of our secure offsite records storage, our security agents will pick up your documents and transport it after the vetting process. With a service tailored to your needs, we can offer document shredding once records are not needed anymore. Do you need those documents again? Within a few hours you'll be receiving those via fax or e-mail, straight from our secure offsite records storage.
The Costs of Paperwork Storage:
Depending on the volume of the documents that you wish to scan, we can offer you a very competitive price. However – we can specify a price based on the workload that comes with moving your documents to our paperwork storage. We also offer complementary services – such as document scanning.
Paperwork Scanning
Document scanning allows you to gain time and money through digitalising all your paper-based documents. This is an excellent option for those that not only wish to free up space through removing the documents from the office, but also for those who want to make the most out of the option to take documents on the go. To add to that, the added layer security of document scanning can add to the issues we have dealt with.
Are you planning to move to a paperwork records? Why not give us a call today to see how we can help you! Call Secure Storage today on 0151 293 4000, or or use our contact form.
Cloud-Based Paperwork Storage
When considering different paperwork storage options you may want to consider cloud-based storage. The benefits of cloud storage includes keeping all your most valuable paperwork that has been converted into a digital format on a highly secure offsite server which doesn't take up any memory on your PC/company server (which can be costly to increase size) and doesn't run the risk of losing important data if your system was to fail.
You will 24 hour access to all your important documents as long as you have an internet connection and when using Secure Storage Solutions you will have all paperwork documents stored in an organised manner so that all records are quick and easy to find.
If you would like to find out more about our cloud paperwork storage solution then please get in touch with our team now.
Paperwork Storage FAQ's
Why type of paperwork can you provide storage for?
We have been trusted to provide paperwork storage for important documents that need to remain completely confidential and can only be accessed by authorised personnel only.
This type of paperwork includes the likes of medical records, suspension files, legal documents, financial documents etc.
To ensure that our security measures facilitate these stringent requirements the facilities where these documents are held can only be accessed by ID card in a room that is under CCTV supervision 24/7. This ensures that we can provide the highest level of security for whatever important documents that are being held at our facility.

Why should I consider offsite storage as opposed to keeping my documents secure at work or at home?
If you have not considered offsite storage then you may be keeping your important documents secure in a filing cabinet, storage box, drawer etc. These may be kept in locations such as your work or home office.
Clients who decided to invest in offsite storage solutions mainly do so to either free up much needed space in their office by clearing out documents that may not be ready for disposal and/or to ensure that these documents are more secure as keeping documents in an office doesn't necessarily mean that security breaches cannot take place as many office facilities simply can't guarantee complete security of important documents.
Whatever the reason for keeping your documents in an offsite facility, we will make sure that they are fully safe and only accessible to authorised persons only.
All authorised personnel at our facility have undergone full background checks.

What if my paperwork is no longer needed and I don't have room to take them back?
If you are ready to dispose of your documents then we can offer a shredding service to make sure that all of your paperwork and it's content can no longer be viewed.
This means that your documents can effectively complete their full lifecycle at our facility without taking up any room in your office space.

How would I get my paperwork to your facility?
Your paperwork will be picked up by a member of our security team to ensure that they can be transported to our facility with little to no risk.
How do document storage companies keep your records safe?
When you are running a busy business, it can be tough to stay on top of tasks such as keeping sensitive company and employer records safe. This is where it can be beneficial to use a trusted company to keep your sensitive documents safe. An added benefit to employing an offsite paper storage company is that along with getting protection from physical damage such as fire and flood, you are adding extra protection from criminals.
Contact Us Today
If you are interested in offsite paperwork storage solutions then please give our team a call today.
We can help guide you through our processes so you are fully safe in the knowledge that your documents will be in safe hands.
Our work has been used by a large number of services that require full confidentiality this includes hospitals, accountants, solicitors, government records etc.