Document Storage Warrington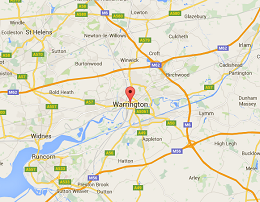 Secure Storage Services offers a reliable, affordable and highly secure document storage service for your Warrington business.
Warrington is no doubt a major economic hub for the North West of England. In some sectors, Warrington is now more important than the North West's more traditional economic powerhouses such as Manchester and Liverpool.
For this reason, the need for a highly secure yet affordable document storage services has never been more in demand for Warrington businesses.
The case for offsite document storage
And let's not forget that the ever-rising cost of renting businesses premises in Warrington. Rental fees plus business rates mean it's highly uneconomical to store documents at your main business premises. Instead, choose to store your documents at Secure Storage Services purpose-built facility. Per square foot, you will pay a fraction of the price when compared to storing documents at your main business premises.
When security is of paramount importance
When you choose to store your documents offsite, your documents are much more secure when compared to storing documents onsite. This is because our document storage facility is purpose built with security in mind.
In fact, many of our customers are professionals who must abide by strict client confidentiality regulations. Thus, storing client documents with Secure Storage Services demonstrates you take these regulations very seriously indeed.
This is because the standard of security at our purpose built depot is far higher than what you would expect at a normal place of business. Our premises are under the watchful eye of a 24/7 CCTV surveillance system and many of our employees are ex-police or ex-military. If this wasn't enough, each staff member we employ is subject to an enhanced CRB check before a contract of employment is offered.
Benefits you derive from using offsite storage
But what does this mean for you? Well, the answer is simple.
By providing an ultra-secure environment for document storage, you ensure sensitive and confidential information does not fall into the wrong hands. For many of our current clients, this concern is paramount and we've invested heavily in security to ensure security breaches do not occur.
Related services we offer
At Secure Storage Services, we supply a close-knit range of services relating to document storage. This includes document shredding, document scanning, scan-on-demand and secure vault storage.
Industries we serve in Warrington
Here's a list of some of the industries we currently serve in the Warrington area:
Legal services
Financial services
Insurance
Healthcare (inc. NHS)
Local authorities
Creative industries
Insolvency practitioners
Further benefits
If the above wasn't enough, we also offer a state-of-the-art document management and a scan-on-demand service. This ensures your documents are sorted and stored according to our set document storage policy. This allows quick retrieval as and when the need for certain documents arise. We utilise RS-SQL records management software. This allows us to assign document storage boxes with a unique identifier. This allows us the ability to locate your documents with an hour or two following your request for retrieval.
Getting our assistance
For more information on our document storage service for your Warrington business, call Secure Storage Services today on 0151 293 4000 or contact us through this website.