Cloud Document Management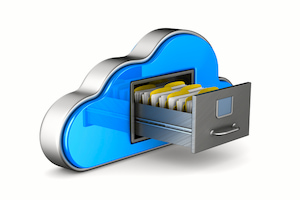 Are you searching for an effective solution for storage? Maybe you've upsized, resulting in greater admin? Or maybe your business requires a large consistent paper trail? Here at Secure Storage Services, we understand how overwhelming the amount of admin and document storing is required when running a business. For some, storing and managing important documents is a required business process for years on end. We can't imagine the amount of physical storage you require.
Not to mention the organisation of your documents. Trying to retrieve an important document under a time constraint can be highly stressful.
If you are experiencing the above, we have a storage solution for you. Have you ever considered cloud document management? More and more businesses are beginning to embrace the benefits of cloud document management systems and storage solutions, while utilising the latest technology for effectiveness. If you are searching for a document management software, providing a storage solution for your data, keep reading. Below is a breakdown of how cloud-based storage works, and the benefits of integrating this into your business processes today.
How cloud document management works
Here at Secure Storage Services, we specialise in storing, scanning and shredding documentation. However, we also specialise in archiving data, following a cloud-based document management software.
This is an effective service, providing customers with the ability to access their stored documents virtually. This is favoured for the ability to access documents on the go through mobile apps, while allowing for sharing and collaboration to be completed by providing multiple user access.
We achieve this by following a cloud-based solution, where a private infrastructure will be followed to secure your data. We understand how a significant amount of your information may be private, confidential or sensitive for business purposes. An element of security will be provided by using the latest version of cloud software, while having control over your cyber security.
File sharing, document organisation and virtual collaboration are some of the key features of using a cloud document management solution. For further benefits, see below.
The benefits of using a cloud document management system
If you are considering utilising the latest technology by integrating a cloud-based virtual storage solution, here are some of the benefits you can expect to experience with our support here at Secure Storage Services…
On the go accessibility: This is one of the greatest benefits of cloud-based document management solutions. Business no longer takes place in a single location. On the go accessibility on your mobile or alternative devices will allow for documents to be accessed wherever you may be in the world, as long as consent has been provided upfront. This is a sought-after feature for many business owners, providing data at the click of a button.
Sharing and collaboration feature: Gone are the days where documents are shared around the office, with one single use. A cloud document management service will allow for multiple users to access and collaborate on documents. This is a handy feature if access is also required by clients or the public, while ensuring documents are stored under your system. Please be reassured that security measures will be in place to protect your details.
Increased security of data: Business related data can be highly confidential. By having physical documents stored, greater risk of theft or damage is likely. By utilising cloud software, increased security will be provided by storing documents under one location, while controlling access. A single IP location can also be selected with a cloud-based solution, helping reduce any cyber security risks.
Easy retrieval: By archiving your documents online, you'll have greater organisation, allowing for easy retrieval. You may currently have stacks of paperwork in your office, knowing full well that retrieval of a certain piece of data could take hours. Immediate retrieval can be achieved with a cloud-based solution.
Our expert eye: By collaborating with our services here at Secure Storage Services, you'll benefit from our specialised eye. Our team are highly qualified in document archiving and security, ensuring that your server is effective for your needs, while clamping down on risks.
Integrated with Microsoft office: For convenience, a cloud-based document management system can also be integrated with Microsoft office. Meaning, your computer files can be stored, accessed and edited easily.
Our services here at Secure Storage Services
Here at Secure Storage Solutions, we are specialists in document management and archiving services. We have worked with many clients across many industries, fully understanding their business processes and needs.
We are passionate about providing the most effective storage solutions while promoting security and safety. We understand how valuable your documents are. With that said, we can help you organise them, retrieve important information, whether that be physically or on the go, while managing access control.
Whether you are searching for simply a service to store your documents away from the office, or require a full paper trial, from storage to online cloud-based archives, we can help you. We even offer highly secure shredding services, ensuring your documents are destroyed once their value has diminished.
Here at Secure Storage Services, we understand that nerves may be present when discussing cloud-based solutions, especially if you're new to technology. To some, moving data online may seem risky. However, cloud document management solutions are highly effective and tested for their safety. For some individuals, a public cloud server may fit well, offering insight from third-party specialists. For other businesses, greater security may be a necessity, resulting in the need for a private server. We can reassure you that the most appropriate storage solution will be recommended for your business needs.
For your free quote, get in touch with our team today. We can run through any concerns you may have, along with recommending the most appropriate storage solution for you. Whether that be a physical storage solution, or a cloud document management service, we can offer our specialised insight. Contact us today to start the process of protecting your documents.