What is Records Management? Back
Records Management (RM) is the control of records throughout their lifecycle. This includes creation, maintenance, use, storage, retrieval and disposal. Records include both paper and digital documents.
Records may be defined using four broad categories :
External records
Internal records
Transaction records
Reference records
The records lifecycle
The below diagram visually represents the 'records cycle':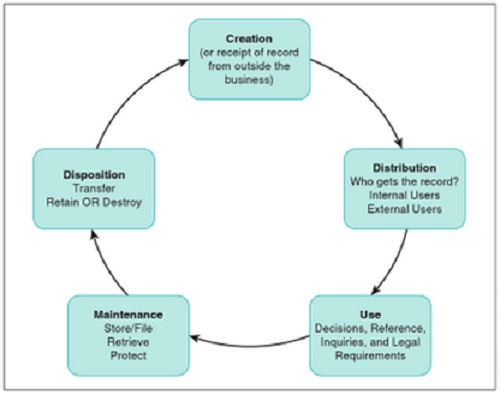 What are the benefits of having a formal RM policy?
The benefits of a formal records management policy include:
Increased speed of records access
Unneeded documents efficiently archived/destroyed
Ensure compliance with legal achieving requirements e.g. solicitors, accountants and schools
Ensure compliance with Data Protection Act 1998 and Freedom of Information Act 2000
Maintain the integrity and authenticity of records
Records Management and ISO
In the United Kingdom, Section 4 of ISO 15489-1:2001 defines records management as including:
Setting policies and standards
Assigning responsibilities and authorities
Establishing and promulgating procedures and guidelines
Providing a range of services relating to the management and use of records
Designing, implementing and administering specialized systems for managing records
Integrating records management into business systems and processes
About Secure Storage Services
Based in Liverpool and Wirral, we provide document storage, scanning and shredding services nationwide.
Document storage and effective document management are increasingly becoming more important for businesses across the country. With the rental price of office spaces going up and data protection concerns increasing, high quality document management facilities are becoming more important to businesses in Liverpool and the surrounding areas.